Press attention around Formula 1 is intense. Throughout the years, Michael has been interviewed numerous times and made comments on events on track. A handful of some of the more notable comments are quoted here.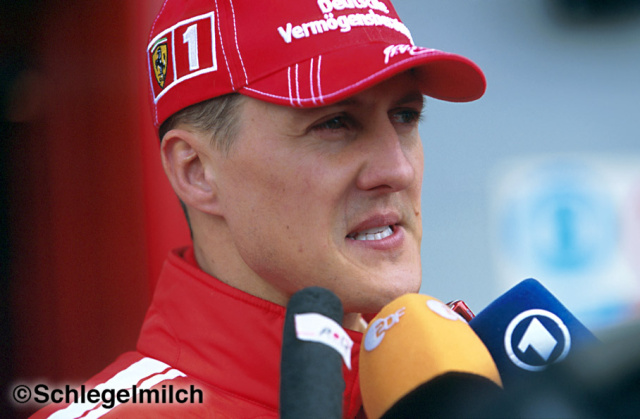 After the Italian GP 2006
Schumacher took his 90th career victory and made an announcement he would retire at the end of the season.
Schumacher: "I have decided that I am going to retire from racing. It has been an exceptional time."
"What motorsport has given to me in more than 30 years, I have loved every moment of it, good and bad."
After the British GP 1999
Following the worst crash of his career and surgery on a broken right leg, Michael addressed the press:
"I am lucky to be alive…It was a very scary moment because it was the first time it has ever happened to me. At first I could not get out of the car and I was worried about the situation. I am thankful for the improvements made in the cars over the last few years because that is what has helped me escape with only a broken leg."
After the Belgian GP 1998
Coulthard had slowed on the racing line, during severe rain and poor visibility conditions, resulting in Schumacher impacting heavily with his car ripping a wheel and suspension off. Once back at the pits Schumacher ran to the McLaren garage and confronted Coulthard…
Schumacher: "Are you trying to f****** kill me?"
Coulthard later responded: "His behaviour coming into the garage and accusing me of trying to "f'ng kill him", it is just unacceptable."
After the Canadian GP 1998
Hill swerved several times down the back straight of the circuit at high speed, as Schumacher was attempting to pass. Schumacher managed the pass regardless, but his car was on the ragged edge.
Schumacher: "That was purely dangerous driving. If someone wants to kill you, he should do it in a different way. We are doing 200mph down there and for someone to then move off the line a total of three times is completely unacceptable."
British GP 1995
Hill tried an impossible passing attempt on Michael for the lead during the early stages of the race, resulting in them both landing in a gravel trap.
Schumacher: "It was completely unecessary what Damon did there. There was no room and he came from nowhere. I don't see the sense of doing things like this, even in front of your home crowd."