| | |
| --- | --- |
| Name | Michael Schumacher |
| Nicknames | Schuey, Schumi, Rainmeister |
| Date of Birth | 3 January 1969 |
| Place of Birth | Hürth-Hermülheim, Germany |
| Height | 1.74m |
| Weight | 68kg |
| Residency | Gland, Switzerland |
| Marital Status | Married |
| Wife | Corinna Schumacher (nee Betsch) since Tuesday 1st August 1995 |
| Children | Gina-Maria, daughter (DOB 19/01/97) and son Mick (DOB 22/03/99) |
| Family | Rolf, Father, Elizabeth, Mother and Ralf, Brother (DOB 30/6/75) |
| Interests | Soccer, tennis, swimming, skiing |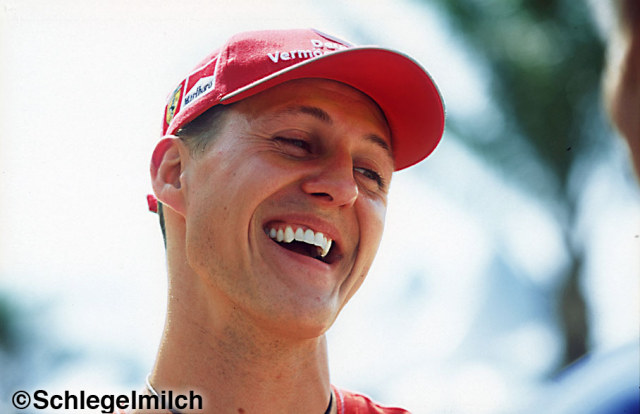 His Manager…
Michael's manager from 1989 was fellow German Willi Weber. Schumacher was to receive a free drive in his WTS team for three years, Weber in return was reported to receive 20% of all income Michael earned from motor races. The initial agreement was to last 10 years, however it was later extended for a further several years. On his return to F1 racing in 2010, Michael's former press officer, Sabine Kehm, became his manager.
His Helmet…
Michael explained how his helmet's paint scheme came about:
"From the area of the visor you see the traditional German black-red-gold. I chose the colours years ago with a friend of mine and I changed it only slightly, mostly to include sponsor decals. The blue circle with the white stars on the top was his idea. After joining Ferrari I added the prancing horse on the back. "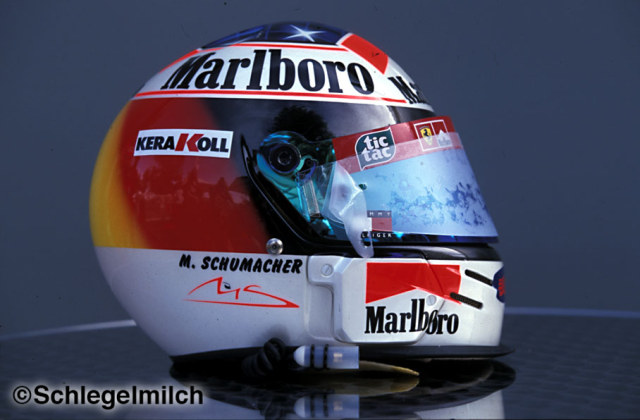 From the European GP in 2000 on, Michael raced with a modified helmet design. The blue circle on the top was from then painted light red. The white Marlboro stripe around the top was also then red. The change was made to prevent confusion between himself and his then teammate Rubens Barrichello, whose design was confusingly similar.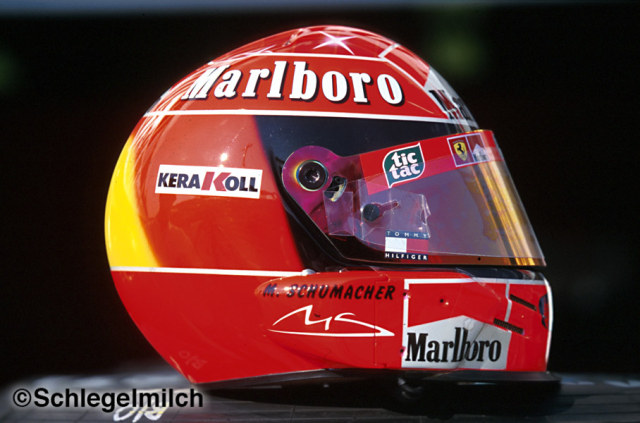 F1 Teams Driven For
Year
Team
Teammate(s)
1991
Jordan
Andrea de Cesaris
1991-1995
Benetton
1991 Nelson Piquet
1992 Martin Brundle
1993 Riccardo Patrese
1994 Jos Verstappen/JJ Lehto/Jonny Herbert
1995 Jonny Herbert
1996-2006
Ferrari
1996-1999 Eddie Irvine
2000-2005 Rubens Barrichello
2006-2007 Felipe Massa
2010-2012
Mercedes
Nico Rosberg
Read more about F1's greatest ever driver….
Learn more about Michael! The great biographies below provide more information than we ever could on mSchumacher.com!
The biography from Christopher Hilton on Michael in its third edition and the author has penned the biographies of numerous other top drivers. Highly recommended reading.Another popular biography was written by motor racing journalist and television commentator James Allen.